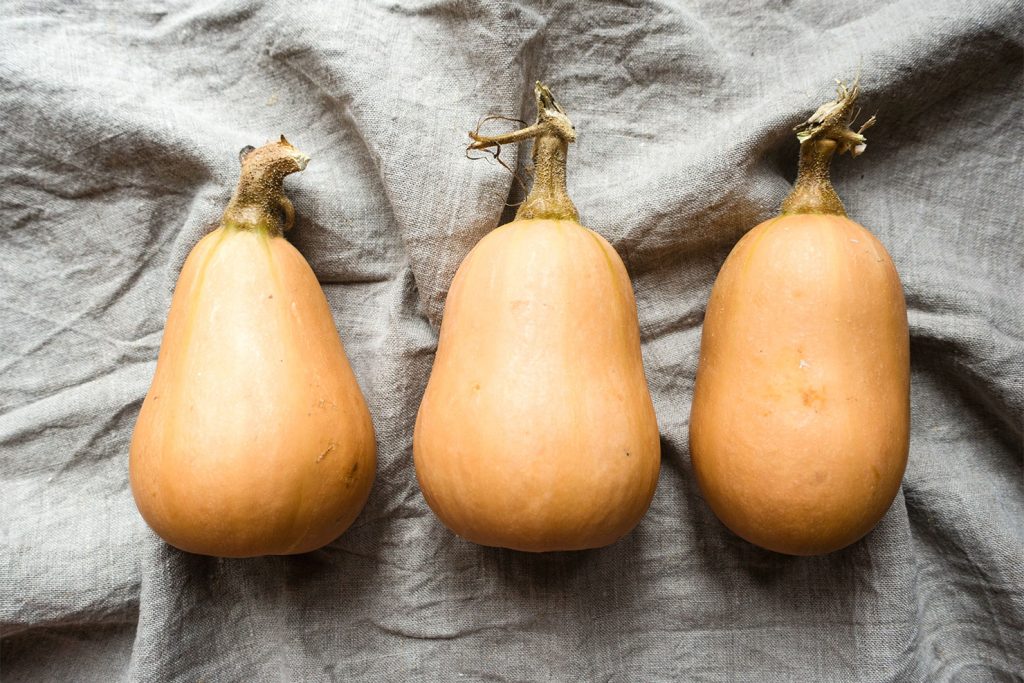 What's the difference?
There are 2 types of squash. Summer and Winter squash. Both are harvested in the summer and late summer months but the difference between winter squash is it can be stored in a cool place throughout the winter. Winter squash has a great shelf-life, the summer squash (zucchini and yellow squash) is more fragile and will only last about one week or two.
Can I eat the skin?
Summer squash has a tender skin that can be eaten. Winter squash has a hard exterior that should be peeled prior to eating.
Help, it's so difficult to peel winter squash!
Yes, this is absolutely true and I have had many kitchen knife accidents trying to peel acorn and butternut squashes! To ease with the cutting or peeling of the winter squashes, place in the microwave for about 20-30 min. This will soften the skin and make it easier to peel.
How do you pick the perfect squash?
Look for a deep color and dull/matte finish. A shiny skin means it was picked too early. Look for the squash that is heavy for its size and always avoid bruises and soft spots.
I love eating stuffed squash and it is a perfect fall meal that is very healthy and low in fat. You can pretty much stuff anything you want in there and have a great meal.
Here are some ideas for Stuffed Acorn Squash.
Ingredients:
1/2 to 1 cup protein — sausage crumbles, ground chicken, ground turkey, ground beef or even tofu pieces
1 to 2 cups veggies — chopped onions, mushrooms, zucchini, peppers, kale
1/2 cup cooked grains and/or nuts — barley, quinoa, millet, farro, rice, walnuts, almonds, pecans
1 clove of garlic minced (optional)
½ cup cheese (optional)
1 teaspoon of fresh herbs and salt and pepper
Instructions:
Prepare the squash for roasting: Preheat the oven to 375°F with a rack in the lower-middle position. Slice the squash in half from stem to root and scoop out the seeds.
Transfer the squash to a baking dish: Place the squash halves cut-side-down in a baking dish and pour in enough hot water to fill the pan by about 1/4 inch. Cover the dish loosely with foil and place the dish in the oven.
Roast the squash: Roast the squash until very soft and tender when poked with a fork or 30 to 40 minutes.
Prepare the filling: While the squash is roasting, prepare the filling. Depending on the size of your squash, 2 to 3 cups of combined ingredients is perfect.. You can combine leftovers from other meals (cooked chicken, roasted vegetables, etc.) or you can prepare a fresh filling. Cook any raw meats and raw vegetables and combine all the ingredients in a bowl. Taste and adjust the spices, salt, and pepper to your liking.
Stuff the squash halves: Flip the cooked squash halves so they form bowls. Rub the inside with a little olive oil and sprinkle with salt and pepper. Divide the filling between the halves — it's fine to really stuff the wells and also to mound the filling on top.
Bake the stuffed squash halves until bubbly: Re-cover the pan with the foil and bake the halves for another 15 to 20 minutes until both are hot and bubbly. Top with extra cheese and serve immediately.
ENJOY!