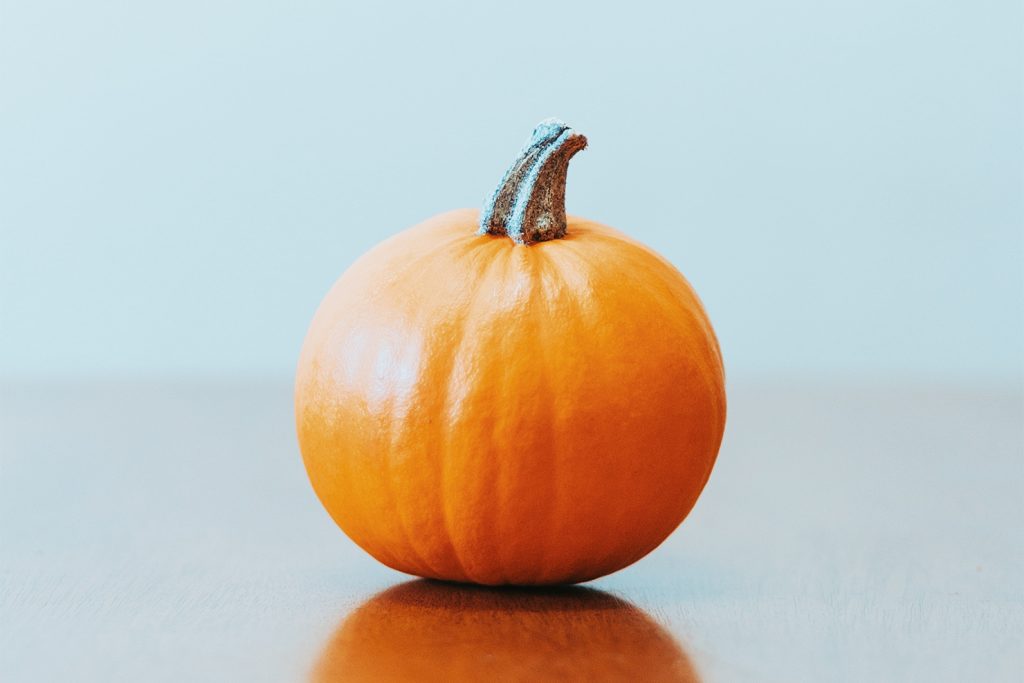 Have you ever cooked a pumpkin? Rather than go pumpkin picking this year to use for decorations try cooking your pumpkins instead. October is a perfect time to cook the fresh version of this nutrient dense FRUIT, yes FRUIT! Pumpkin can be prepared so many ways from savory to sweet, it is high in potassium, fiber, beta carotene and very low in calories!
With so many varieties out there you can find this inexpensive fruit from September to December. The one we see plentiful in the supermarket this time of year is the Sugar Pumpkin, that is our classic Jack-O-Lantern pumpkin.
3 steps to get fresh pumpkin puree..why fresh you may ask? Fresh is always best, although canned is easier you get more nutrients in the fresh variety rather than canned. Whether it is worth the time and effort I will leave up to the chefs out there:)
Step 1
Preheat oven to 350 degrees. Pierce a whole pumpkin with a knife and place on a foil lined baking sheet for about 2 hours. The pumpkin will slump and the skin will turn brown.
Step 2
Peel skin off cooled pumpkin. Start by using a knife and then the rest you can just peel off yourself.
Step 3
Scoop out the seeds and flesh. Rinse and save the seeds for roasting later (this is a great snack or great addition to salads, just spread on a baking sheet, spray with olive oil and slightly salt). The flesh can be used in place of canned. Store up to 1 week in the refrigerator.
Tips to use pumpkin:
Stir in a few tablespoons of roasted pumpkin puree into serving or mac and cheese to add more Vitamin A to your dish. It will also add a nice flavor and color.
For a more nutritious dessert, stir pumpkin into vanilla greek yogurt and add pumpkin spice to it. Layer in a parfait glass with layers of graham crackers or chocolate wafer cookies.
Dice some pumpkin and roast in the oven with olive oil and salt and pepper. The pumpkin will caramelize and create a nice flavor. Toss with brown rice for an easy side.
Make pumpkin spread. Blend 1 cup cream cheese, ½ cup pumpkin puree, ½ teaspoon of honey and sprinkle of cinnamon. Chill and serve with toast, bagels or muffins.