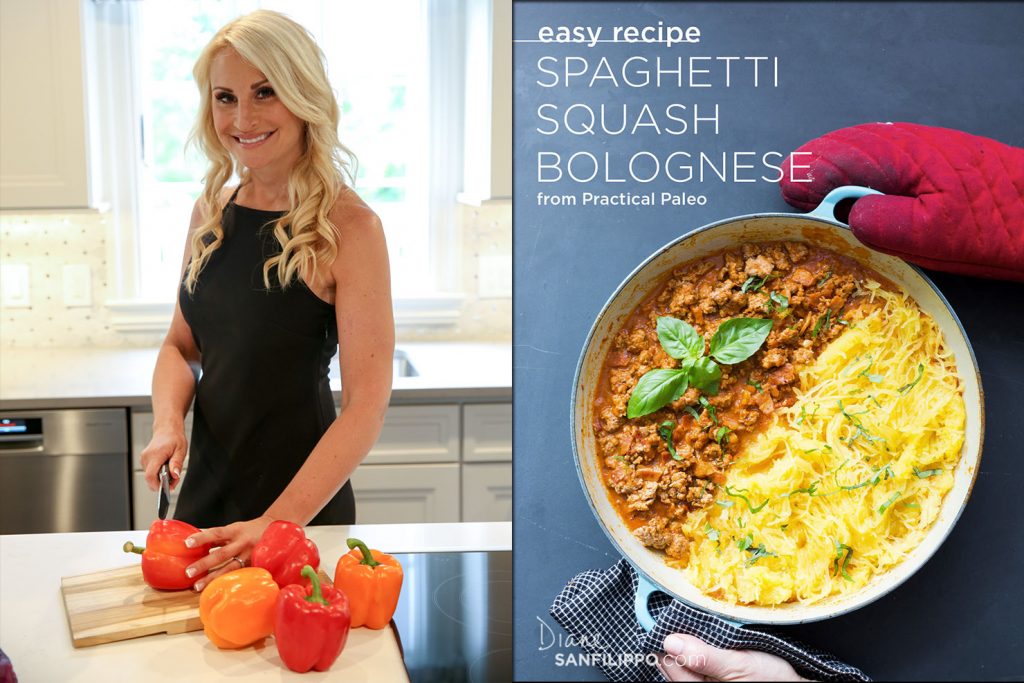 Easy Recipe: Spaghetti Squash Bolognese from Practical Paleo
DIANE SANFILIPPO MARCH 26, 2013
This recipe is from New York Times Bestselling book, Practical Paleo.
Spaghetti Squash Bolognese
grain-free • gluten-free • dairy-free • nut-free • seed-free • sugar-free
PREP TIME: 15 minutes
COOKING TIME: 60 minutes
YIELD: 4 servings
NUTRITION INFO: click here
Ingredients:
1 spaghetti squash
Sea salt & black pepper to taste
2 tablespoons bacon fat or grass-fed butter
1 onion, finely diced
1 carrot, finely diced
1 stalk of celery, finely diced
1 clove of garlic, grated or finely diced
1/2 lb ground veal or beef
1/2 lb ground pork
4 slices bacon, chopped
1/2 cup full-fat coconut milk
3 ounces (1/2 small can) tomato paste
1/2 cup dry white wine (optional, omit for 21DSD – you may replace with beef broth if you feel you need to add some liquid)
Sea salt and black pepper to taste
Preparation:
Preheat oven to 375F.
Slice the spaghetti squash in half lengthwise so that two shallow halves remain. Scoop out the seeds and inner portion of the squash, and then sprinkle with sea salt and black pepper . Place both halves face down on a baking sheet. Roast for 35-45 minutes—until the flesh of the squash becomes translucent in color and the skin begins to soften and easily separate from the "noodles" that make up the inside.
Allow the squash to cool enough so that you can handle it, and then scoop the flesh out from the inside of the skin into a large serving bowl. Set aside until the sauce is finished.
While the squash bakes: In a large skillet over medium-high heat, melt the bacon fat or butter, and sautée the onions, carrots, and celery until they become translucent. Add the garlic and cook for an additional minute.
Add the ground veal, pork, and bacon, and cook until browned through. Once the meat is done, add the coconut milk, tomato paste, and white wine (optional), and simmer over medium-low heat for 20-30 minutes or until the sauce is well combined and any alcohol is cooked out (if you added it).
Add sea salt and black pepper to taste before removing the sauce from the heat.
Serve over the roasted spaghetti squash.