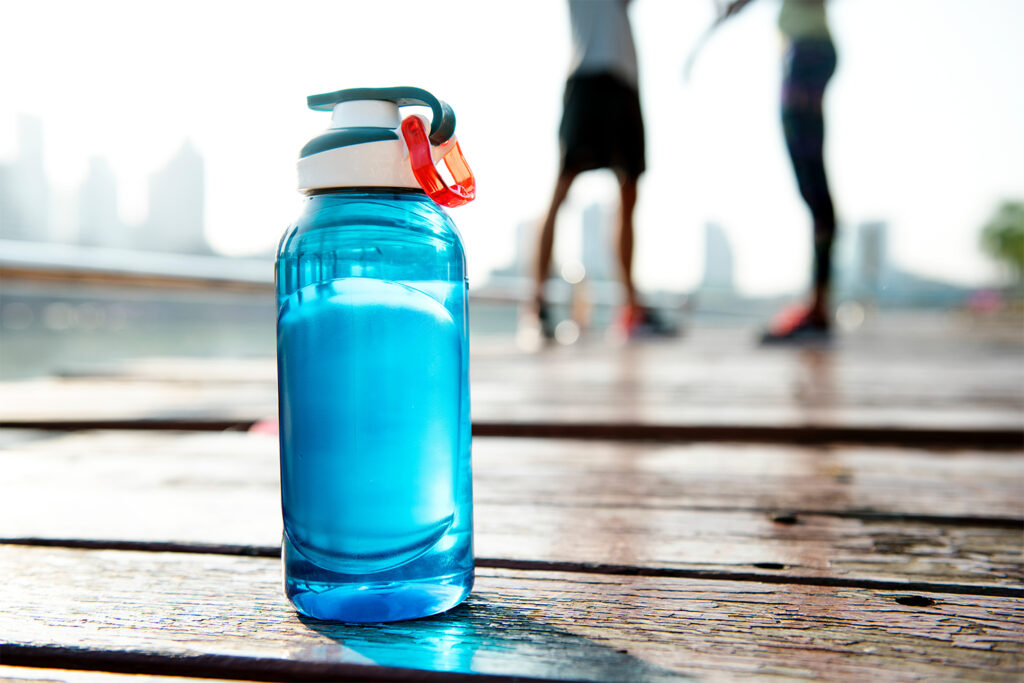 How much water should you drink?
You've probably been told your whole life to drink eight 8-ounce glasses of water per day. While this is a good place to start, how much water you should drink is actually far more individualized.
The rule of thumb is to drink half of your body weight (in pounds) in ounces. For example, if you weigh 160 pounds, you should shoot for 80 ounces of water. This is equivalent to 10 cups of water – or about 2.3 liters. It's important to note that this is a starting point. Hydration needs depend on a whole host of variables. You might need to drink more water if you're in a particularly warm climate, exercise on a regular basis, or if your sick.
You can tell if you're hydrated simply by checking the color of your urine. When you're fully hydrated, you can expect your urine to be a shade of pale yellow. If your urine is darker, you're likely dehydrated. On the flip side, if your urine is clear, you may be over-hydrated.
What are the health benefits of drinking water?
Water has a bunch of responsibilities in your body. For example, it helps you regulate your body temperature, lubricate your joints, and remove waste. Being hydrated also comes with a number of health benefits:
Improved energy levels and cognitive function. Dehydration of as little as 1–2% can impair cognitive performance leave you feeling fatigued.
Fewer headaches. Some people develop headaches when they are dehydrated. This can easily be avoided by prioritizing your hydration!
Improved digestion and constipation relief. Constipation is a common side effect of dehydration that can be relieved by simply drinking more water!
Increased weight loss. Drinking more water is often recommended for weight loss. It's been shown to temporarily increase metabolism by up to 30%!
Improved athletic performance. Being as little as 2% dehydrated can keep you from optimal performance at the gym.
5 Strategies for Staying Hydrated
Staying hydrated is easier said than done! Here are my top 5 strategies for staying hydrated:
Staying hydrated starts with drinking enough water. Be sure to drink at least half of your body weight (in pounds) in ounces each day.
Eat plenty of fresh fruits and veggies. If you want to take it to the next level, try to eat some of these super-hydrating foods: celery, cucumbers, lettuce, spinach, and watermelon.
Don't forget about electrolytes. Electrolytes can be found naturally in many foods! For example, you can find sodium in pickles, chloride in table salt, potassium in avocados, magnesium in pumpkin seeds, and calcium in spinach.
Make hydration easier by adding natural flavor! A popular favorite is to add lemon or lime wedges to your water. That being said, sometimes I like to shake things up with some fresh ginger or cucumber slices.
Easy access to water. Don't make staying hydrated harder than it has to be! Lower the barrier to entry by carrying a reusable water bottle with you wherever you go.