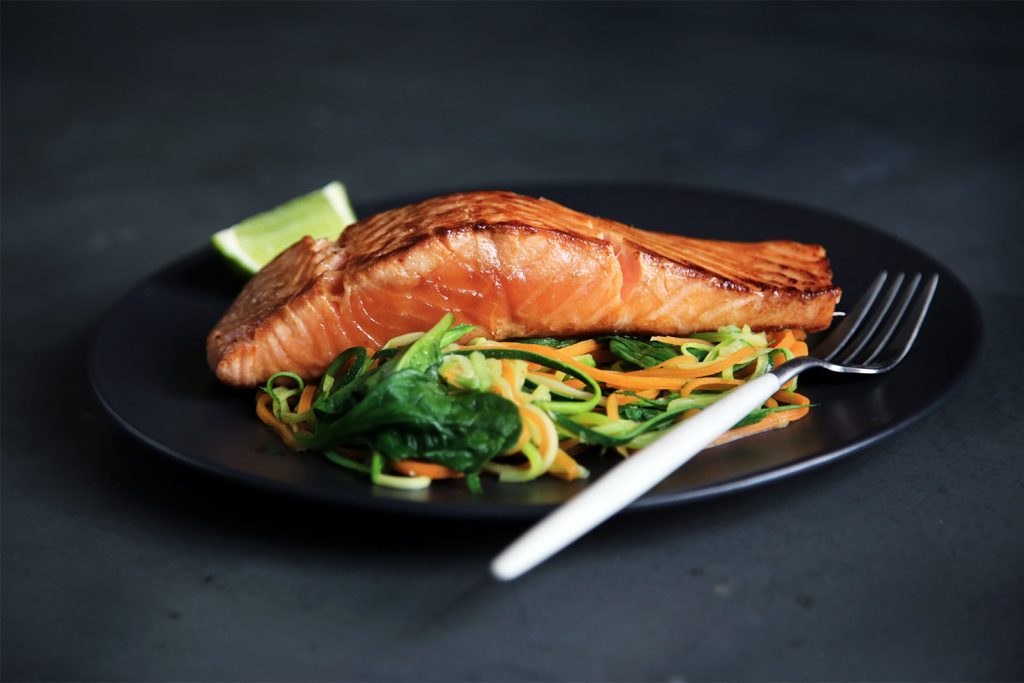 Salmon is often raved about for its health benefits – and for good reason! Salmon is loaded with health promoting omega-3 fatty acids. Incorporating it into your diet is a phenomenal way to make sure you're getting a good dose of omega-3s every day.
That being said, not all salmon is the same. More often than not, the salmon you pick up in the store is bred in fish farms, not caught in their wild, natural environment. You might be asking, why does it matter where the fish comes from? Believe it or not, the difference maker is what the salmon eat. Salmon caught in their natural environment eat other organisms they find in the ocean, river, lake, etc. When salmon are raised in fish farms, they're fed a highly processed fish feed that's full of fat and protein in an effort to produce large fish.
Where the salmon is sourced has a huge impact on the nutritional value. It makes sense, right? The better the fish ate, they better you'll eat.
| Nutrient (5 oz) | Atlantic Salmon, Wild | (5 oz) Atlantic Salmon, Farmed |
| --- | --- | --- |
| Calories | 201 calories | 294 |
| Protein | 28 grams | 28 grams |
| Carbs | 0 grams | 0 grams |
| Fat | 9 grams | 19 grams |
| Saturated | Fat 1.4 grams | 4.3 grams |
| Omega-3s | 150-218% AI | 180-271% AI |
| Vitamin B12 | 188% DV | 191% |
| Vitamin B6 | 89% DV | 69% |
| Vitamin B3 | 80% DV | 88% |
| Vitamin D | 60% DV | 57% |
| Vitamin B2 | 49% DV | 20% |
| Selenium | 94% DV | 62% |
| Phosphorus | 40% DV | 49% |
| Zinc | 11% DV | 6% |
| Copper | 39% DV | 7% |
Farm-raised salmon contains twice the amount of fat and three times the amount of saturated fat as wild-caught salmon. Because of this, a filet of farm-raised salmon can have almost 15% more calories than a filet of wild-caught salmon.
Choosing wild-caught salmon will not only save you from extra calories and saturated fat, but it will also give you a good dose of a variety of micronutrients. While both farm-raised and wild-caught salmon are rich in vitamins and minerals, wild-caught salmon has significantly more copper, zinc, selenium, and vitamin B2.
When buying salmon, you have to be mindful of contaminant exposure. It's not unusual for fish to eat the contaminates they're exposed to in their environment and/or diet. Farm-raised salmon are much more likely to contain higher levels of contaminants (pesticides, for example) than wild-caught salmon. Because of the condition of most fish farms, antibiotics are often added to their feed to prevent the spread of infections and disease. Eating salmon that's been raised with antibiotic-infused feed can lead to antibiotic resistance and other major health concerns. When it comes to eating salmon, regardless of source, you should also be aware of potential mercury contamination. While salmon is considered one of the fish that contain lower amounts of mercury, pregnant women and young children should still be mindful of this.
So, the question still stands: Should you ditch farm-raised salmon in favor of wild-caught salmon? Not necessarily. Farm-raised salmon is still a great choice if you're looking to incorporate more omega-3's into your diet. Depending on your budget, the benefits of buying wild-caught salmon might not be worth the cost. Just be mindful of potential contamination and don't over-consume farm-raised salmon.
Garlic & Herb Baked Salmon
Below is my favorite tried-and-true salmon recipe. Definitely give it a try if you're looking to incorporate more salmon into your diet!
Ingredients:
1 lb. salmon
1 lemon, juiced
2 garlic cloves, minced
2-3 tablespoons melted butter or olive oil
1/4 tsp sea salt
1/4 tsp black pepper
Pinch of crushed red pepper flakes, optional
1 tbsp fresh dill, chopped (for garnishing)
Instructions:
Preheat your oven to 375 F and prepare a baking sheet with a large piece of foil.
In a small bowl, add lemon juice, minced garlic, melted butter or olive oil, and seasonings. Whisk until all ingredients are well incorporated.
Place your salmon on the prepared baking sheet and pour the mixture over the salmon.
Fold the foil over the salmon and seal it shut to make sure the sauce doesn't leak out in the oven.
Place the foil-wrapped salmon into oven and bake until cooked. This will take anywhere from 14-16 minutes.
Once cooked, unseal the foil and put the salmon back in the oven. Broil for a couple of minutes. Keep an eye on it to ensure you don't burn your salmon.
Remove the salmon from the oven. And reuse the sauce that was left behind in the foil by pouring it on top of the salmon and sprinkling it with fresh dill before serving.