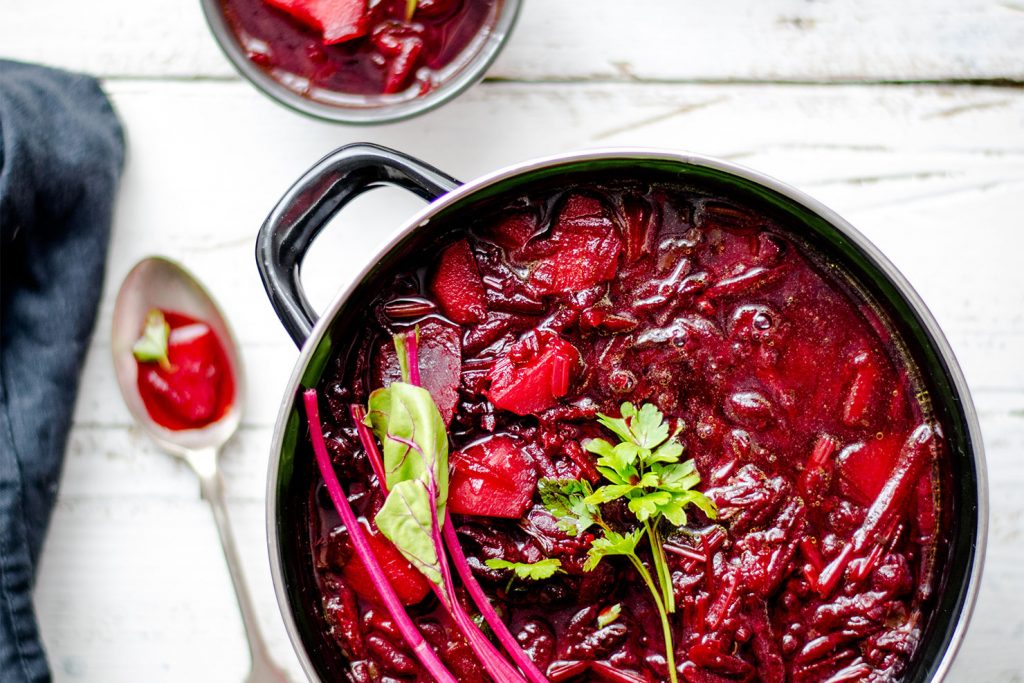 You probably know someone who has a strong aversion to beets, right? You might even know someone who eats so many beets they might turn into one! This is because beets have a very unique, earthy flavor that people either love or hate.
Believe it or not, I was once a beet-hater. I thought they tasted like dirt and I couldn't wrap my head around why anyone would voluntarily eat them. Then I learned about their nutrient content and potential health benefits. I decided to start experimenting with beets and before I knew it, I turned into a beet-lover!
Beet Nutrition 101
Beets are an unsung superfood. They are jam-packed with nutrients! Just a single cup of beets has only 121 calories, 8g of fiber, 5g of protein, 77% daily value (% DV) folate, 52% DV manganese, 24% DV cooper, 21% DV magnesium, 20% DV potassium, 18% DV vitamin C, 16% DV phosphorus, 13% DV iron, and 12% DV zinc. Impressive, right?
Beets also contain dietary nitrates which make them a very intriguing food for athletes. Endurance athletes often use beets or beet juice as an ergogenic aid for athletic performance. Some studies found that recreationally active athletes who supplement with nitrates can significantly reduce the oxygen cost of exercise and ultimately improve performance during high-intensity endurance exercise.
In addition to being beneficial for athletic performance, beets are especially great for pregnant women or women trying to conceive. Beets are loaded with folate. Like I said, just a single cup of beets has 77% of your daily recommended amount of folate. Folate is essential for normal tissue growth and cell function – especially during pregnancy. This study found that low concentrations of dietary and circulating folate are associated with increased risks of preterm delivery, infant low birth weight, and fetal growth retardation.
While beets are a particularly great option for endurance athletes and expecting moms, they also offer a great deal of health benefits to the general population. For example, the nitrates that help enhance athletic performance are also are associated with reduced blood pressure. Beets also contain pigments called betalains, which have antioxidant properties and are associated with decreasing inflammation in the body.
Have a beet aversion? You're probably not preparing them correctly!
Beets are super versatile – you can consume them raw, cooked, or pickled. You can even eat their leaves! They come in a variety of colors too. Most people associate beets with red beets, but there are also other colors like gold, pink, and white.
Because beets have a particularly strong taste, I wanted to give you the recipe that turned me from a beet-hater to a beet-lover. I'm forever grateful to Dana from the Minimalist Baker for sharing this recipe for Smoky Black Bean Beet Burgers. These veggie burgers are hearty, smoky, and full of essential nutrients. It's the perfect "gate-way recipe" for all beet skeptics!
Smoky Black Bean Beet Burgers
Recipe by Minimalist Baker

Ingredients: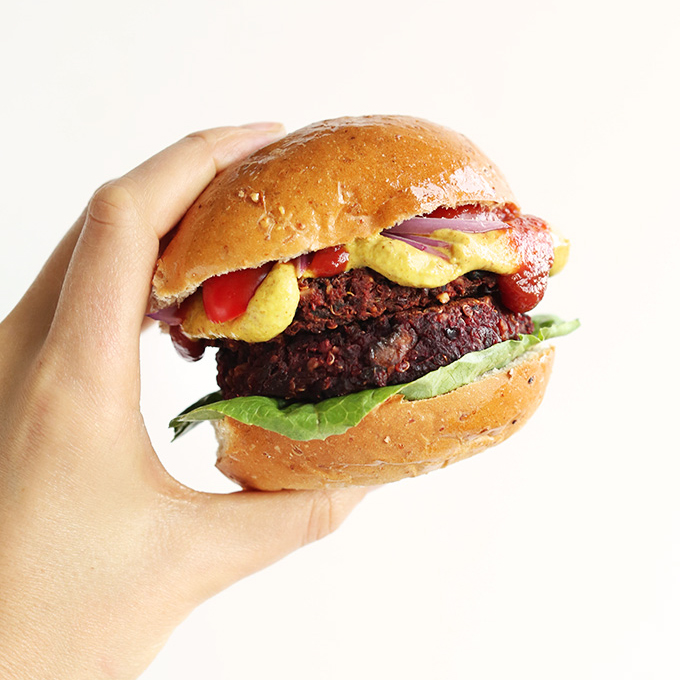 3/4 cup cooked quinoa
1/2 large red onion (finely diced // 1/2 onion yields ~3/4 cup)
1 cup finely chopped mushrooms (shitake, baby bella, or white button)
1 pinch each salt & pepper
1 15-ounce can black beans (well rinsed and drained)
1 cup finely grated raw beet
1 tsp cumin
1/2 tsp chili powder (or sub extra cumin)
1/4 tsp smoked paprika
~1/2 cup raw walnuts (crushed or ground into a loose meal)
For instructions on how to prepare these Smoky Black Bean Beet Burgers, head on over to the Minimalist Baker.