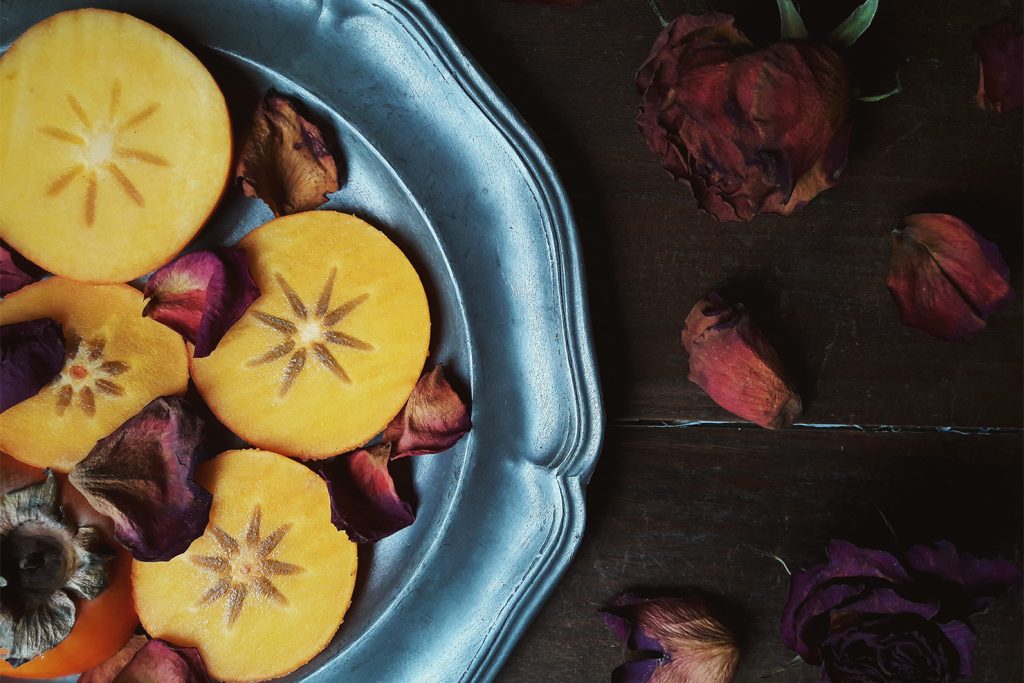 The winter season comes with a ton of unique produce like beets, turnips, leeks, and kale. While hearty vegetables usually steal the spotlight, I think that winter fruits really steal the show. Blood oranges, pomegranates, clementines, and my personal favorite: persimmons. Their sweet flavor is very reminiscent of honey and I look forward to this season year round!
Not only are persimmons super tasty, they're also jam-packed with nutrients that can really support your health all winter long! Below I broke down a few of the reasons you should incorporate persimmons into your diet this season.
Persimmons are nutrient dense.
Persimmons are a great, low-calorie way to get in a ton of flavor and a ton of nutrients. Plus they are loaded with fiber which makes them especially weight-loss friendly! One persimmon (93 grams) has only 118 calories, 31 grams of carbs, 6 grams of fiber, 1 gram of protein, and less than half a gram of fat. You'll also find 117% of your recommended daily intake (RDI) of vitamin A, 17% RDI of vitamin C, 33% RDI manganese, and 21% RDI cooper.
Persimmons are full of antioxidants and flavonoids.
In addition to their high vitamin and mineral content, persimmons are also full of antioxidants. Antioxidants are plant compounds that help protect your cells from oxidative stress in the body. Oxidative stress is an imbalance between free radicals and antioxidants in your body. Eating foods that have powerful antioxidant properties can really protect your body from chronic diseases like heart disease, diabetes, and cancer.
The skin of permissions is particularly rich in carotenoid antioxidants like beta-carotene. Beta-carotene is an antioxidant that converts to vitamin A. Beta-carotene is especially good for improving cognitive function and skin health. But be sure to pair your persimmons with a little bit of healthy fat! Because beta-carotene converts to vitamin A, which is fat-soluble, this is important for absorption.
Persimmons are also high in flavonoids, which are a group of natural substances found in foods like fruits, veggies, grains, tea, and wine. Flavonoids are particularly known for their powerful antioxidant effect on the body.
Persimmons can help reduce inflammation in the body.
Chronic inflammation can really take a toll on your quality of life. Lucky for us, eating a diet rich in foods that battle inflammation can significantly reduce inflammation and ultimately protect us against inflammation-related diseases.
In one medium persimmon, you'll find nearly 20% of your RDI of vitamin C. Vitamin C is a potent antioxidant that can really boost your blood antioxidant level and help the body's natural defense mechanisms fight against inflammation. In addition to vitamin C, persimmons also contain other potent antioxidants that fight inflammation in the body like carotenoids, flavonoids and vitamin E.
Persimmons can support a healthy gut.
I'm sure you've heard lots and lots on the internet about how you should have a "healthy gut." What does that even mean? How do you support a "healthy gut?" Well, there are lots of things you can do to support your gut like eating slowly, staying hydrated, eating pre- and probiotics, managing your stress levels, etc.
Another simple thing you can do to support your gut health is to eat a diet high in fiber. It's been shown that a healthy diet high in fiber is linked to a healthy gut microbiome. Before you ask, let me tell you a little bit about what fiber is. Fiber is simply a non-digestible dietary carbohydrate. Men should be consuming about 38 grams of fiber per day while women should shoot for 25 grams.
Luckily, one medium persimmon has a whopping 6 grams of fiber! Eating fiber-rich foods like persimmons can really help keep your digestive system healthy. Fiber feeds the "good" bacteria in your gut, can support weight loss by increasing feelings of fullness, reduce spikes in blood sugar after eating a high-carb meal, and get rid of that pesky constipation.
How to Incorporate Persimmons Into Your Diet
Now that you've been convinced, you'll likely want a few ideas on how to incorporate this unique winter fruit into your diet this winter! You can enjoy a persimmon as a simple mid-afternoon snack or use it in a fun recipe – see below for a spiced persimmon smoothie!
If you're looking for a few extra ideas, here are some simple ways to add persimmons to your diet:
Slice and eat raw as a simple snack.
Slice persimmons onto a salad with some slivered almonds.
Top off your morning yogurt or oatmeal with fresh or sauteed persimmons.
Roast a few persimmons in the oven until soft and drizzle a little bit of honey or maple syrup and a sprinkle of cinnamon. Serve for dessert the next time you have company!
If you have a dehydrator, slicing and drying persimmons in the oven is a fun way to make chewy persimmon fruit strips. This is a fun snack to bring on your next backpacking trip!
Chop and freeze persimmons to incorporate into smoothies to take with you to class or work.
Spiced Persimmon Smoothie [Recipe]
This is my go-to persimmon recipe! As soon as I see persimmons in the grocery store, I grab a bunch, take them home, chop them up when they are fresh, and pop them in the freezer for my next smoothie. The frozen persimmons, frozen banana, and raw cashews add a great creamy element to this smoothie while the cinnamon, ginger, and cardamom add a pop of holiday spice that really takes this smoothie over the edge.
Ingredients
1-2 frozen persimmon(s), chopped
1 frozen banana, chopped
1 1/2 cups plant-based milk*
1/4 tsp cinnamon
1/4 tsp ginger
1/4 tsp cardamom, optional
2 tbsp raw cashews
1-3 tsp maple syrup or honey, optional
Instructions
Add all of the ingredients to a blender and blend until smooth.
Notes: *If you prefer a thicker smoothie, add 1 cup of plant-based milk and add more later if needed.